"To say that the season for studying philosophy has not yet come, or that it is past and gone, is like saying that the season for happiness is not yet or that it is now no more." — Epicurus
Did you ever consider majoring in Philosophy?
Click here for reasons why you should.
Are you interested in attending law school?
Recent TCNJ philosophy majors have been accepted at first rate law schools such as those at New York University, Columbia University, the University of Pennsylvania, the University of Chicago, and Duke University. Click here to find out more about the pre-law program.
Are you interested in attending medical school?
Click here to find out why majoring in philosophy provides good preparation for medical school.
Philosophy on the Web
Click here for some useful links.
For Alumni
Click here for our Alumni page.
Experimental Philosophy Surveys
Click here for some interesting surveys concerning your philosophical intuitions.
Find us on Facebook
Click here to see our Facebook page.
---
Philosophy, as a discipline, is the systematic examination
of the most fundamental questions that human beings ask.
---
Philosophy explores such matters as the nature of reality, the nature and source of knowledge, the nature and basis of ethics, and the relationship between mind and body. The study of philosophy makes a valuable contribution to one's personal development and is a keystone of a liberal education. The philosophy major combines a thorough study of philosophies that have shaped Western civilization with rigorous training in the analysis of argument and in the development of a systematic set of reasoned philosophical views of one 's own.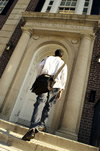 The design of the philosophy major itself, as well as each course taught, strives to imbue students with those ways of identifying, thinking about and analyzing problems and constructing and assessing theories and counterexamples that can be found within the best that philosophy has to offer. The courses expressly ask students to demonstrate the ability to identify philosophical issues as problems or puzzles with respect to which there exist opposing solutions each of which requires investigation, understanding and assessment. They also emphasize the importance of the student's making a genuine contribution to the discussion that is presented by the assigned and recommended materials for the course in addition to demonstrating mastery of those materials. These courses also place emphasis on the process by which a good piece of philosophy is finally produced. Learn more »